Apr 8, 2023
The Vivian Line is unlikely to land on anyone's hip/hot list. Rather Sexsmith, now pushing 60, is content to churn out radiant, sublime, transcendent music that unobtrusively exists in its own delicate bubble, inviting us in to join him on his unique musical path.
American Songwriter
Ron Sexsmith's albums have always had a generally laid-back vibe, but in recent years this has become ever more wistful and soothing, a listening experience rather like snuggling up in a favourite blanket and letting your troubles wash away. Sign me up.
Folk Radio UK
Those already deeply appreciative of Ron's songwriting chops include a stellar list of vocalists to have recorded Sexsmith compositions. That group includes such international stars as Rod Stewart, Emmylou Harris, Nick Lowe, plus Canadian favourites Michael Bublé, Feist and k.d. lang. Sexsmith's work has also elicited effusive praise from the likes of Paul McCartney, Elvis Costello, Steve Earle and Chris Martin, to name just a few. Over the course of a recording career now spanning 36 years, Ron has been nominated for 12 Juno awards, winning three times.
Now it's time to visit The Vivian Line. Explore, linger, enjoy."
Tinnitist
I've had the pleasure of interviewing Ron Sexsmith many times..over the course of his 17 albums.
I like diving into deep conversations with him as much as I truly love his songs and melodies.
I also admire what he stands for. No co-writes, no writing by committee, no bending and shaping to suit the music fans who still don't know who he is.
However, when he plays live, you know the room is filled with people who "get it" and it really does feel like a community.
So what is it he "does'?
Ron Sexsmith writes songs that you find yourself humming, and sings in an ever-developing soft voice that still resonates with character. His lyrics are thoughtful, kind and etched with very dry humour.
I loved this conversation with Ron. I hope you do as well.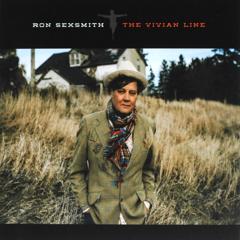 His 17th album is now out – it's called The Vivian Line.
Named after a rural road connection between his old home in Toronto to his new country home in Stratford.
FYI – There's a reference to Richard Manual from The Band. He was born in the area and there's a bench in his memory in the countryside that Ron will visit when he's on his creative walks.
Discover Ron Sexsmith. Your heart will thank you many times over.